i) Date: 4th Jan 2019
ii) Venue: SIESCOMS, Navi Mumbai
iii) Hosted/Organised by: On the occasion of 2nd World Pharma Brand Manager's Day, Centre of Excellence in HealthCare and SIES College of Management Studies has hosted conference on future of pharmaceutical marketing -Changing issues and challenges.
iv) Theme : Future of Pharma Business, Pharma Marketing and Pharma Branding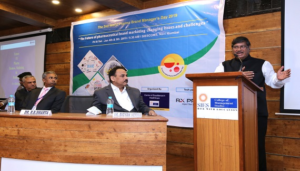 v) Key note Speaker: Dr. R. B. Smarta
He has addressed how disruptive industry like Pharma should change the Business model and succeed. Similarly how to repurpose marketing and how pharma branding should move ahead from crossroads.
i) The audience: Industry Champions, Academicians, Authors, Journalists, Interlink contributors and  students
ii) Key takeaways for the audience :
1. How Disruptions were temporary from business point of view
2. How future business, marketing and branding will look like
3. How regulatory, innovation and digitization will improve branding
4. How ethics should come back in pharmaceutical business
5. Panel discussion and Workshop on how to build a brand in present environment