India's 6 weeks lockdown has impacted Nutraceutical and Dietary supplements industry on multiple fronts. But COVID-19 makes everything different because people are really, first and foremost, concerned with their and their loved ones Physical health.
India has been declared as a country of Malnutrition and main reason for this situation is Hidden hunger! It is a lack of vitamins and minerals. The quality of food people eat does not meet their nutritional requirements as food is deficient in micronutrients.
In India almost 15% of the population is undernourished. These people may not have access to nutritious foods for one reason or another, so supplements can help fill gaps in their nutrition.
The stress of the COVID-19 pandemic can further deplete essential nutrients that the body needs to maintain health. So, although supplements have no direct effect on the COVID-19 virus itself, they can certainly help support overall health and wellness during this very stressful time.
Role of Health Supplements:
As everybody thinks of nourishing well on one side, however they also feel that they should improve their immunity to face this crisis of Corona. There are many nutraceutical ingredients which are useful for building and enhancing individual immunity.
The supplements for immunity and prevention have shown increase in the sales. In this list Ingredients like Vit D, Vit. C and Zinc are on the top. Even immune boosting products like Curcumin, Selenium and Probiotics products have been growing since the outbreak.
Along with these, other ingredients like Asthaxanthin, Polyphenols from pomegranate, Glutathione and extracts of Indian spices like Ginger and Garlic and are also considered to be important ingredients to build immunity.
In case of providing support in nutritional deficiencies, RDA based multivitamin/multi-mineral supplements are advisable to reduce the rate of acute respiratory infections, shortens the duration of flu-like symptoms and improves the rate of recovery.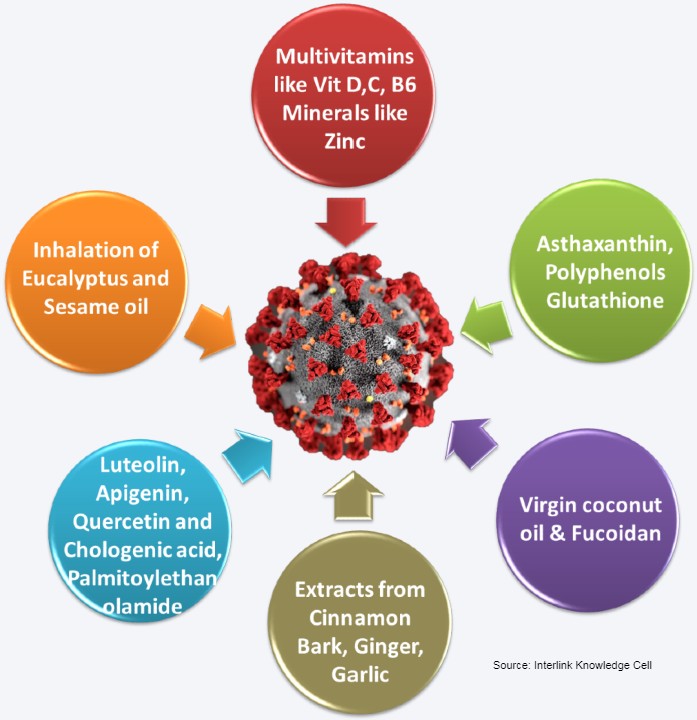 Fig 1.1 Role of Health Supplements
Along with these there are few traditional herbs which may possess beneficial nutraceutical ingredients to boost immunity and shows anti-viral properties. Virgin coconut oil is one of those ingredients. The active ingredients like Luric acid and Monoluarin from Virgin Coconut oil have shown to be effective against viral infections. Also ingredients like Fucoidan have some immunomodulatory properties and reduce allergic responses and activate Natural Killer Cells and T cells.
Common Indian spice like Cinnamon Bark in the extracted form of compound IND02 has shown anti-viral properties against H1N1 and H3N2. But the anti-viral activities against COVID-19 need to be further studied and confirmed. Also ingredients like Luteolin, Apigenin, Quercetin and Chologenic acid have been studied to function as anti-viral. One of the major ingredients like Palmitoylethanolamide, present not only in egg yolk, but also in other foods, such as soy oil, peanut oil, and corn has shown anti-inflammatory action and symptomatic relief of flu symptoms.
In case of market response to this crisis has been phenomenal. As many of above mentioned ingredients and herbs are not only getting used as immune-boosting but also for preventing side effects. The demand of such products is increasing as per the awareness and knowledge of consumers. In India, even healthy snacks like protein bread has shown increased demand. The Indian start-up specialised in making protein bread and cookies has seen online sale go up by 15%.
Propagation of Integrated Medicines has been seen beautifully woven in this crisis period. Along with the modern medicines, the ministry of Ayurveda, Yoga & Naturopathy, Unani, Siddha and Homoeopathy (AYUSH) sent out a new advisory to states suggesting "add-on traditional medicine interventions to conventional care". The advisory suggests intake of Tulsi, Ginger, Guduchi (Tinspora cordifolia) and Turmeric in diet. Also use of Sesame oil along with inhalation of Eucalyptus oil is advised to lower the incidences of respiratory tract infections. Yet, efficacy of all ingredients is very important here, particularly in cases such as this, where many aspects of the virus are still unknown and claims need to be backed with clinical evidences.
Challenges for Nutra and Dietary Supplements Industry:
Some supplement categories could see sales declining. The ingredients like Ashwgandha, Lycopene, Lutein and segment of Sports Nutrition are likely to see lesser demand during this time.
Even supply chain is experiencing losses in terms of exports as most of the ports are closed. Likewise, most of the companies are facing supply chain disruptions. But there are chances that new channels may emerge!
The outbreak of COVID-19 has highlighted that businesses should adopt Hybrid Model. The Hybrid Model will encompass both in-person interaction and digital touch. This can include channels like online stores and adopting subscription models.
The use of Artificial Intelligence to trace and track entire value chain will be much useful and will be accepted by consumers for its efficiency and effectiveness. Video conferencing and digital friendly education platforms will be much useful to update the employees amidst the period of lockdown.
Common communication platform can be generated for all stakeholders that will help them to make business deals and trade purpose.
In this situation consumer awareness and consumer engagement will be a key to success and it can be done with the help of social media. As well as knowledge sharing can be used as a tool to engage and retain customer. And Subscription model will lead to expected growth in these volatile conditions.
References:
https://www.nutraingredients-asia.com/Article/2020/03/26/Eating-right-COVID-19-pumps-up-sales-for-India-s-protein-bread-maker?utm_source=copyright&utm_medium=OnSite&utm_campaign=copyright
https://www.nutraingredients-asia.com/Article/2020/03/31/India-s-COVID-19-lockdown-Dabur-Pure-Nutrition-and-Akay-weigh-in-on-economic-impacts?utm_source=copyright&utm_medium=OnSite&utm_campaign=copyright
https://www.msn.com/en-in/health/familyhealth/coronavirus-anti-viral-foods-to-build-immunity-and-keep-diseases-away/ar-BBZBkpa
https://www.nutraingredients-asia.com/Article/2020/04/06/Transform-to-survive-MLM-firms-LifeVantage-Herbalife-Amway-reveal-strategies-for-success-amid-COVID-19-disruptions