A strong misconception I wish to shoot down at the beginning of this article is about digital transformation. You do not need a strong IT team with an army of coders and software engineers to execute your transformation journey, it's 2021 and without writing a single line of code, you can create your website, landing pages, and even your app!
The world of SaaS scenarios will solve it all for you, with ease.
A broad definition is "Digital Transformation is the use of technology to change how a business operates and delivers experiences to its customers".
Gartner's digital transformation definition:
 "Anything from IT modernization, such as cloud computing or AI, to digital optimization, or the invention of new digital business models."
Whichever definition you take, digital transformation has the same all-encompassing goal:
Improving business processes and using digital technology to help. Yet, digital transformation isn't a one-size-fits-all concept.
Common digital transformation mistakes Brands make:
When it comes to how a Brand or Product needs to view a digital transformation, brands tend to make one or more of the following mistakes that prevent them from having a successful digital transformation:
Viewed from the bottom up and not the top down
Brands often get confused with the term digital transformation – it doesn't only mean digital. When organizations launch new websites, tools or processes, they may consider that as their digital transformation, but then it doesn't work out as they intended.
Why is it so?
Digital transformation begins with the people. If new technology is implemented without considering the people, the organization as a whole and its internal processes, then the transformation will be a failure.
When viewing digital transformation from the C-Suite, it's important to note that every business is unique, and there is no one size fits all solution.
Also, brands need to do away with old-school thinking that the digital business model has diverse rules compared to their regular business model. Online and in-store pricing may or may not vary in today's scenario, yet both will still require investment for finding the right product mix, after-sales processes and customer support, most importantly the time spent on both these platforms are almost equal now.
Digital transformation is a short-term concept
Numerous assumptions state that a transformation happens once and then you're done. Digital transformation is an ongoing process, where brands need to adapt to new technologies, changes in consumer behaviour, and continuity.
Another problem with viewing digital transformation as a one-and-done thing is that some brands believe it would be too big of a project to undertake and end up costing lots of time and money.
If you plan well and understand your business constraints and reimagine them into different scenarios, then each problem can be tackled one by one. This makes it easier to view a digital transformation continually and as a benefit to the business rather than one "big bang" effort that customers end up ignoring.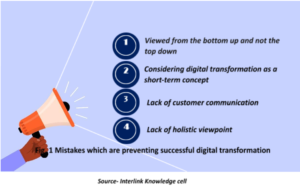 There is a lack of customer communication
Digital transformation does not mean build it and customer will come. Just because you add new technology doesn't mean that your customers will immediately start using it. You need to communicate with both customers and employees and make sure that they are happy with the changes you are implementing.
Proper communication also helps to avoid friction between customers and the company and makes sure your digital transformation is tackling the right problems.
It isn't viewed holistically
When organizations don't view digital transformation as part of one bigger movement, then they may believe that it won't work for them.
In reality, every brand or product has at least one area that could improve with digital transformation. With proper cost-benefit analysis, brands will be able to determine where digital transformation will work best for their business and won't just do it because it seems to be the latest trend.
Digital transformation doesn't only impact customers but also employees and the overall company culture. Understanding this concept will help internal staff understand the benefits and lead to greater adoption across the business.
Also, real digital transformation needs to be embraced and executed by everyone and not just the Techno-Marketing team. Any technology that gets introduced as part of a digital transformation needs to be user-friendly or it won't be effective.
How to get people on board with digital transformation?
Any process that changes the status quo will cause disruption. Consequently, there's no such thing as "minimizing disruption" during the digital transformation process.
But people are the cornerstone of digital transformation so getting them on board is fundamental to success. Here are some steps you can take:
Identity internal senior champions with the inclusion of the sales team (veterans of the organisation drive the transformation)
Establish a team of people across every aspect of the business. Digital transformation affects everyone so having key participants throughout the organization is critical to its success.
Starting with some of the major departments that digital transformation will affect and make sure everyone remains focused on the ultimate objective.
Key Take Away (KTA): "Determine who you can to be count on to help champion the digital transformation recommendations."
Undertake an inclusive planning process
Once you have your senior champions in place, gather all of them to begin the planning process. Including everyone in the planning process and hearing ideas from multiple places can provide a different perspective and lead to a better outcome.
The initial plans you had for a digital transformation could turn out to be more beneficial to some departments than to others. Hearing everyone's views will help you to plan accordingly.
Key Take Away (KTA): "Capture all the ideas as a group and rate impact Vs effort."
Identity and chart high-impact vs effort
Categorize your ideas based on how much work they will require and the overall positive impact on the organization. High impact ideas that require a lot of effort would be classified as significant projects. 
However, you can't forget about the thankless tasks that require high effort with little reward. Sooner or later, you will be happy that those tasks, such as digitizing client documentation or data collection, got done.
Any low impact and low effort work can always be filled in along the way where space allows.
Key Take Away (KTA): "High impact ideas that need the least amount of effort are always a good starting point since they qualify as quick wins."
Select a cross-section for a phased approach
Make your digital transformation process an agile one and don't try to implement everything at once. Do it to step by step, gradually introducing changes and seeing how your customers and employees react to changes before adding more.
Key Take Away (KTA): "A phased approach allows the flexibility to course correction without derailing the entire process."
Prioritize selection
Once you have selected which cross-section of the chart you're going to begin working on, then you can start to prioritize the tasks within that section. 
Some of the factors to consider may include benefits, cost of implementation, and the overall strategic value of the initiative.
Key Take Away (KTA): "Identify any defining factors and weighted criteria you will use to help determine which job to tackle first."
Allocate owners to each initiative
Ownership allows stakeholders to feel like their contribution matters. Each initiative you have should be treated as an individual project, and one of your stakeholders should be designated as the project owner.
Owners will likely come from the departments where the project is primarily located.
Key Take Away (KTA): "As the project owner, it is that person's responsibility to see the project to completion."
Have regular interactions (online and offline) to discuss progress
Digital transformation, like any important venture, isn't a short-term project. Having regular meetings with stakeholders is essential to make sure that everything is on track.
When you meet, discuss any issues being faced, potential bottlenecks that are hindering progress and how far along you are on the project roadmap.
Key Take Away (KTA): "A talk solves a lot!"
Inform stakeholders why you're doing this (and the benefits associated with the journey)
When working with stakeholders and anyone within the organization who will be involved in the digital transformation process, it is essential to explain why you are undertaking the project in the first place.
Key Take Away (KTA): "One good way of doing this is to identify how they will benefit as individuals or as a department as a result of the digital transformation."
Over-communicate
Communicating the value of the digital transformation and with each other throughout the process is a recipe for success. 
Find ways to capture people's imagination and align them with your vision for the organization. Make it easy to be found so that everyone can have clarity on what they're working towards and make any content related to the digital transformation efforts easily consumable. This may include visuals, pics, video, gifs, etc. to boost interest and understanding.
Encourage discussion, not just among stakeholders but with others in the organization as well and avoid sending updates or resources related to the process that can be easily lost or ignored.
Key Take Away (KTA): "Some of the ways you can do this are by giving the transformation process a name, a good one."
Celebrate achievements
During any process, it's important to celebrate achievements along the way. This reminds you and your team about how far you've come, even if you still have a way to go to complete your objectives.
Key Take Away (KTA): "Milestone every moment and scenario, drink it out or shout it loud!"
Create visual signals of change for all (internal and external) stakeholders
Visual signals can create checkpoints internally among your employees and externally among your customers. Signals can help you determine how effective your transformation has been thus far and ensure that everyone has the digital transformation on their minds.
Continuously seek feedback
Feedback is invaluable as it can determine if you're on the right track or if you need to make sweeping changes to your approach. Don't simply wait on your stakeholders to get back to you and tell you how you're doing. Go directly to stakeholders and seek out feedback about your progress so far
 Key Take Away (KTA): "Be proactive and not reactive!"
Make the process ongoing, don't treat it as a one-off project
Digital transformation is a continuous process that needs updating as customer requirements change and new technologies emerge. For that reason, you shouldn't treat it as a one-off project that is finished once you check the last task off of the to-do list.
Don't let this deter you as it merely means that organizational goals and requirements will continue to change along the way, and you should always be ready to change with them if necessary.
Key Take Away (KTA): "Your digital transformation is, in some ways, never-ending."
Bonus content for the transformer in you!
Technology's role in digital transformation
Since digital transformation begins with the people involved in the organization and the business processes, many begin to wonder what role technology plays in transformation. Following fig. 2 describes some of the things that technology does: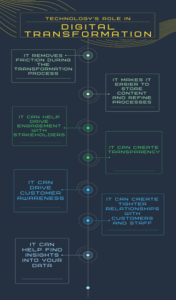 Fig. 1 Technology's role in digital transformation
Source- Developed by author
 "Every journey starts with a single step!"
…………………………………………………………………………………………………………………………………………………………..
Reference
Gartner Study on Digital Transformation with CoreDNA data points
About Author
Mr. Anurag Dalal- He is a versatile corporate with strong track records across Marketing, BD and Digital streams for several International Pharmaceutical Organizations on B2B platforms in Egypt, Afghanistan and India. 
He has played a key role in establishing valuable marketing & communications strategy, novel revenue networks, increased productivity and cost efficiency. 
With more than 15 years of corporate experience, he is completely adept at Strategic Counsel & Planning for brands in diversified domains and single handedly managing the Product/ Brand.
Summary
In recent scenario, digital transformation is not just necessary, but essential. Various industries are increasingly shifting their business models and marketing strategies from traditional to modern and advanced ones. This shift is progressively driven by the advancing technologies owing to which various areas of business are transforming digitally. This article highlights certain aspects of digital transformation in building brand strategies in current scenario as companies are testing their efforts in the market in much creative and productive ways, which is interesting to know about…