A new-normal is gradually moulding our way of leading life. Considering impact of pandemic, though it has affected the profits across value chains, we should glance at positive things. I think entire world has realized that human life is a prestigious life and we are accountable to keep "Our earth a great place to live". So, henceforth our equation should be 3P's; People, Planet and Profits. This article briefly explains the impact of pandemic on Pharma and Nutra value chain and way ahead for chief executives to think on.
Since the past few years, 2020 was touted to be a revolutionary year with terms such as 2020 Vision marking its presence in most corporate and industry plans. Surely, the year is turning out to be revolutionary but in a way that no one imagined.
Even with a plethora of research going into development of vaccines and curative treatments, we have been made aware of the strong mutation capabilities of the virus. It is now clear that the virus is here to stay and we must be the ones adapting to a change in our lifestyles, both on a micro and a macro level to be a 'new-normal'.
Weneed to quickly, but rigorously, assess our current relevance to our customers, understand our competitive exposures, and re-tool our offerings and go-to-market strategies to get back on track, and capture new ground, in a landscape rich with potential new opportunities for our businesses, employees and communities.
Disruption in Pharma and Nutra value chains:
Drug discovery & Clinical trials
As we are aware that entire world is focused on discovering treatment for Covid19. As of now 200 drugs and vaccines are under development with almost 80% in pre-clinical and phase 1 of clinical trials. It has been observed that pandemic has halted almost 1300+ US-based clinical trails. On the contrary, 1800+ covid19 related trials that are focused on observational and interventional studies are in process. Thus, this has directly affected the discovery of new molecules which were in pipeline.
If we talk about Nutraceuticals, trials for ingredients exhibiting anti-viral, immunity boosting as well as symptomatic relief are ongoing. More than 18 such trials had been undertaken till the month of April and more in the pipeline.
Drug Launches
There has been no major impact on drug approval process. The number of FDA approvals has increased by 50% in 2020 as compared to last year. Some companies like Bristol-Meyers Squibb and Acacia Pharma has postponed their launches. A chance of drug launches in 2Q & 3Q is likely to be affected.
Nutraceutical industry has witnessed a spike in the market demand for its products. It is predicted that the industry will grow rapidly in the initial quarter and gradually lessen through the year. The ingredients such as vitamins, omega-3 and minerals have seen an impetus.
Raw materials
US and Europe are heavily dependent on China and India for bulk drugs like KSMs, APIs and intermediates. US imports around 80% of APIs, major chunk from China and India, whereas Europe's imports around 50% of APIs from China and India. The pandemic has severely affected the generic drug producers in US and Europe. Mobius Capital Partners foresee that many buyers depending on China will try to stay less dependent on China and hence alter their supply chains. Atleast 57 APIs that are required in production of crucial antibiotics, vitamins, and hormones or steroids can go out of stock in case of prolonged disturbed supply chain in China.
With a steep rise in demand for Nutraceutical ingredients, availability and price has been a hurdle. Although, India is a biodiverse region with 4 out of 25 biodiversity zones, thus giving an edge to manufacturing and sourcing of ingredients from within the country without having to rely on imports.
Finished products and supply chain
Medicines being part of essential commodities, local government has supported the Pharmaceutical industry and has allowed working with minimal restrictions following proper precautions. As logistics and distribution is hampered, the industry is running on low production capacity that would affect the availability in coming months. In the month of April, at Baddi in Himachal Pradesh, where major production is carried out,Dr. Reddy's Laboratories operated at 15% of capacity at its two units there, Abbott at 25-30% and Cadila was running at 35%, among others hindered by the lockdown.
The supply chain has been one of the worst affected links in the value chain of the industry. As the lockdown is being lifted and operations resuming with higher capacity, it is expected that these sections will continue to normalize.
Marketing
Doctors call visits play a crucial role in pharmaceutical sales and marketing. Sales team are the game changer in Pharma industry. But because of risk of infection, their work has been suspended. Many companies have adopted online sales channel, like emails, virtual and digital communication to interact with physicians and even with team. However, in near future digitization is going to be applied for doctor visit, now it is done by means of virtual communication. Even personalized messages or customized videos explaining product can be shared with Doctor, which they can observe in their spare team and can lead to effective value adding calls.
The road taken by Nutraceuticals on the other hand, is slightly different. Owing to the surge in awareness amongst consumers, we can expect a shift in the marketing model from doctor/influencer based to a more direct marketing style. We can already see advertisements incorporating buzzwords such as 'immunity' in their products. Online marketing is also a major tool that should be incorporated by these companies.
Leading our way via consumers:
Having an experience of more than 50 years in Wellness industry, my ways and methods always drill down to consumer level. We are living in consumer era, no doubt that my 3P's strategy that prioritizes first people, followed by planet and then profits will work out towards a better world.
Here are few key points that arise from consumer survey done by Mckinsey India in April 2020. These points can help us in strategizing our ways to deal with current pandemic situation.
Following percentage is of respondents who were doing the activities as mentioned but after pandemic has started to do more. So, to retain our consumers we need to tap these points.
More than 50% of consumers are thinking more wisely than usual while spending money.
45% are considering cheaper products to save money.
40% are making wise decisions by researching the brands and products before buying.
Word of mouth or reference through family and friends are acting as powerful tool for marketing.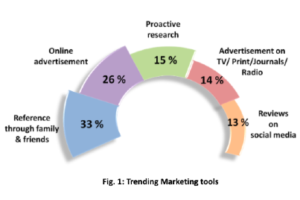 Drug discovery & Clinical trials

Automation has increased in Pharma industry to accelerate R&D, data entry and analysis which suggests an upward future trend in automation. 

Looking at the impact of covid19, regulatory authorities should incorporate digitalise clinical trials in the testing. Well, digitalising the clinical trials is already started by few companies, now at this stage it is need of the world to apply technology widely. The UK National Institute for Health Research has also released a framework to resume clinical trials.

Product Launches
With time the industry will stabilise and as unlocking is already in process, both the industries will resume its activities and probably by 2021 product launches will peak up depending upon the market needs.
Raw materials/ ingredients
Opportunity is knocking at the door and government has already taken steps to grab the chance. The PLI Scheme – Production Linked Incentive Scheme for manufacturing of KSMs, APIs and drug intermediates has already been rolled out. The decision maker has to realign priorities and focus on manufacturing the raw materials. This will help in reducing the imports from China.
Sanofi a leading Pharmaceutical MNC, is planning to become 2nd largest API manufacturer in world by 2022, with projected revenues of €1 billion by 2022. The strategy of CEO Paul Hudson's plan is to simplify the global drug giant and focus on growth products, one of them is atopic dermatitis star Dupixent. As per his statement, the drug can generate €10 billion in peak sales.
Finished products and supply chain
The disruption caused in the section has paved way for a more streamlined system. Incorporation of technology in terms of digitisation in logistics and supply chain as well as use of Blockchain technology would be beneficial in managing the entire supply chain system and would improve performance.
Marketing
Marketing is also one of the areas that is likely to see a complete transformation. As few top companies have already started digitizing the way of communication with doctors, I feel companies should take advantage and check their performance using virtual communications system. As looking at benefits, interaction with physicians at their convenient time, physicians may love digital channels or choose a hybrid model of communication whereby face to face visits can be planned once in a month.
Bain research shows that more than 70% of B2B buyers—and a growing number of sellers— feel that virtual sales calls are as effective as in-person calls for complex products, even those involving a high degree of customization or configuration. This conclusion only proves the necessity of having a robust and functional digital infrastructure which can become the key in determining success of the company.
Further looking at current consumer behaviour we need to plan our marketing strategy accordingly. Considering availability, affordability and accessibility and streamlining logistics to resume the supply chain is crucial. Simultaneously, keeping brand value and products in list of consumers is required, so use of online marketing tools like advertising in journals, magazines can be preferred. Sending personalised messages to customers telling them how your services are responding to pandemic and about CSR activities will help in spreading word of mouth.
What's next?
Unlike many industries struggling to identify a suitable response to the COVID-19 impact, the healthcare sector has infrastructure in place, with technologies such as remote patient monitoring, automated manufacturing facilities, and AI in drug discovery. The pandemic has resulted in very heavy lifting by healthcare workers, but the sector as a whole is somewhat immune to effects of a downturn. The crisis has largely acted as catalyst for transforming the sector, making it more sustainable and better prepared for future exigencies.
References:
https://www.mckinsey.com/in/our-insights/survey-indian-consumer-sentiment-during-the-coronavirus-crisis
https://www.bain.com/insights/the-new-normal-is-a-myth-the-future-wont-be-normal-at-all/
https://www.bain.com/insights/tracking-the-global-impact-of-the-coronavirus-outbreak-snap-chart/
https://www.fiercepharma.com/pharma/sanofi-to-move-forward-complex-api-spin-off-despite-covid-19-reuters
https://fortune.com/2020/07/07/pharmaceutical-industry-collaboration-novartis-bristol-myers-squibb-big-pharma/