Indian Food Processing Sector: -A Growing Market in 2021
In the global economy, the food processing sector has become an intrinsic part of the food supply chain. This sector has become of enormous significance as it provides crucial interaction between the two pillars of the economy, i.e., industry and agriculture. India is also expected to have profitable growth in this sector in the coming years.
Industry Scenario:
The Indian processed food market is poised to rise at a CAGR of 14.6% from $555.2 bn in 2020 to $957.5 bn by 2024.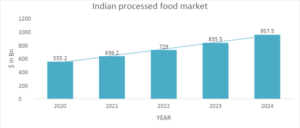 sugar, grain, edible oils, dairy products & beverages are the major players constituting the food processing industry. Moreover, in 2020 the government of India has deterrent over 134 food processing projects across various states. There are 47 cold-chain,21 Agro-processing clusters, 3 operation green, 12 food testing labs, 43 Food processing units, 8 forward & backward linkages across different states. These 137 new sanctioned projects are poised to grip domestic investment of INR 2,026.32 CR and create direct and indirect employment for 77,330 persons.
key factors for the growth of the food processing sector:
With an increase in urbanization and a fast-paced lifestyle, there is very little time available for meal preparation. Thus, processed food such as snacks and ready-to-eat products have a colossal demand.
Factors that play a significant role in the growth of the food processing sector are as follows: –
Due to the expansion in urbanization, there is growth in the organized food retail sector.
Through different advancements in science and technology, MSMEs are playing a significant role in India's food processing sector.
India has a drastic growth in the online food ordering business.
There is a huge demand for healthy, packaged, and immunity booster snacks such as roasted pulses, popcorns, and roasted nuts.
There is a primary focus now on branded packaging rather than on loose packaging products.
The 'Atmanirbhar Bharat' initiative of government prioritizes this sector and offers help through different policies.
Due to these factors, India's processed food consumption is poised to reach $1.2 Tm by 2025-26.
Opportunities in the food processing sector:
With India moving from lack to surfeit in terms of food production, the opportunities for increasing food processing levels are in numerous There is a rapid change in the eating habits of Indian consumers, which has led to an increase in the trend of snacking in between meals, increasing consumption of organic food, on-the-going-eating, pre-cooked ready-to-eat meals, and switching to healthier eating alternatives. This has led to many new opportunities for international and domestic companies in the consumer food market to build a stake in this fast-growing processed food market. India can also become an outstanding hub for food processing globally because of its strategic location, which links to different export market destinations. Hence, the food processing industry is the sunrise sector for both consumers and industrialists.
REFERENCES: –
https://www.ibef.org/blogs/growth-opportunities-for-the-food-processing-industry-in-india
https://www.financialexpress.com/opinion/food-processing-the-untapped-growth-opportunity/1600235/