With the second wave on the door, people are now fully aware what immunity exactly stands for. With WHO recommending herbal ways to fuel our immunities, we are now adjusting the focus of our lenses toward Nutraceutical industry in a different and modern way. Preventive care rather than curative care is now establishing in the Indians' mindsets. Amidst pandemic, immunity has become a topmost concern and consumers' reliance on Nutraceuticals has increased. This shifting consumer behaviour toward Nutrition which will definitely be the story changing script for Indian Nutra industry in 2021.
Nutraceuticals market is poised to grow by USD 180.38 billion during 2020-2024, progressing at a CAGR of almost 9% during the forecast period, according to Technavio report. Prebiotics and probiotics sector is expected to contribute maximum over the forecast period owing to the increasing usage of probiotics as a primary ingredient among majority of food manufacturing companies.4 areas of growth for 2021 nutraceuticals:
1. Probiotics: According to the report by Knowledge sourcing.com, Indian Probiotics Market is expected to grow at a CAGR of 13.56% to reach a market size of US$ 961.856 million in 2025 from US$ 448.456 million in 2019. This growth is fuelled by factors such as increasing health consciousness for healthy living, rising awareness of preventive and natural healthcare treatments, growth in functional food industry, growing obese population and adoption of probiotics in paediatric healthcare. Mother dairy as a major player in probiotics followed by Amul, Danone Yakult, Nestle, Tablets India, Dr Reddy Laboratories, Unique Biotech, Zeus Biotech, etc. are expected to make a big business in 2021.
2. Immunity building ingredients: This area definitely will make a huge amount of money in 2021, as being all-equipped for any uncertainty like Covid-19 is what we have learnt this year. Looking at current situation of 'Prevention is better than cure', supplements like Amul's 'Haldi Dudh', Dabur's products like Chawanprash, Giloy Ghanvati, Amla juice, Giloy-Tulsi-Neem juice, Ashwagandha, etc have reported a strong growth and will continue to grow in upcoming years. According to reportlinker.com, Indian immunity boosting packaged products market is projected to reach $ 347 million by FY 2026 owing to increasing consciousness and focus towards preventive health.
3. Vitamins & Minerals Supplements (VMS): Number of new launches are taking place in this segment of Nutraceutical market in recent years. Exposure to direct sunlight is rare because of lockdown, which might result in increased demand of Vit. D supplements in 2021. Vit. C, B & B12 are proven to have Immunity-boosting properties will occupy the Nutra market along with Vit. A, Multivitamin supplements and essential minerals like manganese, calcium, iron, zinc, etc. Nutraceutical gummies, which were once considered a health supplement for kids, is now making significant moves into the adult VMS category.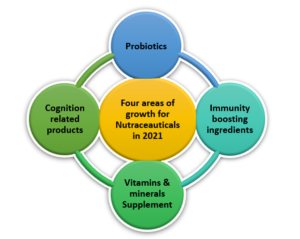 Source: Interlink knowledge cell
Img. 1.1 Four areas of growth for 2021 Nutraceuticals
4. Cognition related products: The Global Brain Health Supplements Market is anticipated to reach $5,813 million by 2023, growing at a CAGR of 8.8% from 2017 to 2023. Nowadays, this segment is gaining popularity among many people due to rise in willingness to enhance brain functions, surge in number of self-directed consumers, and increased awareness among the students about brain health supplements. We can expect a good business in these area from the supplements containing ingredients like ginseng, ginkgo biloba, curcumin, lion's mane, bacopa monnieri, acetyl-L-carnitine, alpha GPC, citicoline, docosahexaenoic acid (DHA), huperzine A, etc.
Looking at evolving mindsets and health consciousness in people, contribution of above discussed segments will have a substantial impact on growth of Indian Nutra industry.
Now, let's have a look at the reasons behind people's evolving mindset toward Nutra industry:
In countries like U.S., China, and India, awareness regarding calorie reduction and weight loss is on the peak. These countries are expected to promote the application of nutraceuticals and in-turn will be witnessing the growth in this area.
Growing trend among consumers to alter dietary habits as improper diet results in increased expenditure on pharmaceuticals.
Malnutrition and undernutrition are some of the major causes which are weakening Indian's health status. The Indian government and private stakeholders have been undertaking several measures in the recent years to improve the nutritional status in the country, as a result helping Nutra sector to grow.
Key Nutraceutical players like Dabur, Himalaya and the Baidyanath group are showing-off a rich heritage in herbal and Ayurvedic medicines of India for ages. New and increasingly dominant entrants such as Patanjali are also playing a crucial role in popularising Ayurveda and giving the sector a boost.
Our land has an ability to grow botanicals under very controlled conditions to meet organic and other claims, we also know how to produce superior ingredients from these botanicals and robust clinical research industry. With abundant availability of ingredients, expert agricultural research infrastructure and a growing number of qualified individuals in the field, India is well poised to be a leader in the nutraceutical ingredient space.
We are 'Pharmacy of the world' and are well equipped to produce high-quality and low-cost generic drugs. Our manufacturing expertise and excellence hold good for Nutra sector as well. Many of the Nutra-technologies are same as of pharma technologies, no doubt we are going to lead Nutra-manufacturing too. Low cost-high quality manufacturing will help us to highlight our identity in the finished product space.
The rise and evolution of wellness focused diets, such as keto and paleo, are driving food producers to cater their products in this direction.
To reduce the risk of cardiovascular diseases and develop the quality of intestinal microflora, probiotics and omega-3 are highly used in yogurt and fish oils. This is further projected to fuel the market growth of the nutraceutical products over the coming years.
Another major factor in propelling the growth of this sector is 'Evolving treatment protocol'. Healthcare practitioners are making nutraceuticals part of their treatment regime to improve outcomes. Pharma-Nutrition is emerging as a vital field in our health sector.
Busy lifestyles sometimes never let us sit and have our balanced meal, making a window for nutraceuticals to meet our daily nutritional needs.
Considering the side-effects of prescription drugs, and the failure of modern treatments in delivering safe results, consumers nowadays are shifting to nutraceuticals.
Nutraceuticals are no longer just the part of preventive and curative regimen but also are employed for losing weight, make the hair grow better, or to get glowing skin. Also combating diseases like thyroid, nail disorders, diabetes, arthritis, etc.
Rise in disposable income, increasing consumer awareness about health issues, rapid urbanization, positive outlook towards medical nutrition owing to the increasing weight management programs, along with cardiovascular diseases, is anticipated to propel the demand for nutraceuticals.
Increasing costs of hospitalisation and access to information have helped consumers to look at health supplements and nutraceuticals in a broader way.
Looking at all these satisfactory reasons, it's not wrong to state that the future of Indian Nutraceutical sector in upcoming years would be as Glorious as our Pharmaceutical sector. Let's just simply rely on our royal heritage of herbal medicines to work efficiently in this field and see the magic happening.
The article is written by Dr. Smarta and published by Saffron media.